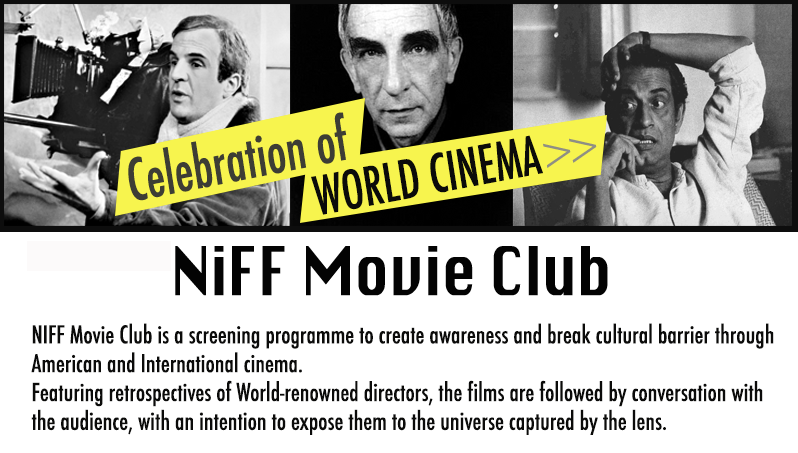 NIFF FILM FESTIVAL : Oct 25 - 28, 2017
Filmmakers! If you wish to feature your feature at our movie club, please send an email to programming@niffhouston.org with details about the film and a screener. Please mention if you or your film's representative will be able to attend the screening for a Q & A with audience. Thanks.

Upcoming Events

DECEMBER

Foreign Feature films




Friday, Dec 29, 2017 @ 8 PM
Next Actor Studio, 2406 Quenby, Houston, TX 77002

BHALOBASHAR BARI (House of Love)
Directed by : Tarun Majumdar
Starring : Rituparna Sengupta, Prateik Sen, Sreela Majumdar
Executive Producer : Sharmistha Mukherjee
Premieres in Houston

Actress Rituparna Sengupta and Executive Producer Sharmistha Mukherjee will be in attendance to engage in a dialogue with the attendees in a seminar with Next Actor Alum.
Open to Next Actor Alum only. Free Admission for students.
Please Emailing Monica at monica.mansy@nextactor.com to confirm attendance.


OCTOBER :

Next International Film Festival (Niff Houston) : Oct 25 - 28, 2017
Venues : Alamo Drafthouse, Mason Park; Match Midtown Theatres; Next Actor Studio



A Curry on an American Plate, 82 mins.
Directed by : San Banarje
Starring : Rick Fox, Charlie O'Connell, Andrea Guasch
Alamo Drafthouse, Mason Park, Katy, Texas
Wednesday, Oct 25, 2017 @ 8:00 pm

JUNE, 2017

Orphan Train, Episode 1 - 4
Opens : Saturday, June 10, 2017 @ 8 PM
Director : Trisha Ray
Writer : Brian Stewart
Produced by : Boat Angel Family Films, Next Actor Studio, Lake Camp Productions
Starring : Mahie Gill, San Banarje, Romario Solis, Josh Rahman, Zoie Steen, Andrea Guasch
Free Admission by invitation only.
Venue : Next Actor Studio, 5522 Chaucer Drive, 77005